INTRODUCTION
Enterprise Green Communities is transforming the quality of affordable housing in America. Green building practices lead to healthy, efficient, and environmentally responsible homes—and as the Enterprise Green Communities Criteria is implemented at a large scale across communities, practitioners are setting a new standard for design and construction that addresses our changing climate, improves health and well-being of residents, and is economically viable for the long term.
As a community of affordable housing providers, we have an opportunity to give residents agency in designing their homes and to provide access to opportunities through connections to transportation, quality food, and critical services. Green building practices can be leveraged for all of this. Enterprise Green Communities aligns affordable housing investment strategies with environmentally responsive building practices.
2020 ENTERPRISE GREEN COMMUNITIES CRITERIA
The 2020 Enterprise Green Communities Criteria was developed to translate the collective expertise of leading housing and green building practitioners into a clear, cost-effective framework for all affordable housing development types.
The Criteria are suitable for New Construction, Substantial Rehab, and Moderate Rehab in multifamily and in single-family projects. Special considerations are also given for projects located in rural, tribal, and small town locations. Where relevant, exemptions based on project location or on development type are identified within each criterion.
Each of the criteria found in the Manual starts with a Rationale that describes the intended impact and value of implementing the strategy described. That's followed by a Requirement section that shares how an affordable housing team should go about achieving the intent of the criterion. Next, there's a Recommendations section, which offers suggestions that go above and beyond the Requirements, for teams that are interested in pursuing the criterion deeply. Finally, each criterion includes a Resources section, with links to information that may be of use to teams as they consider and implement each strategy.
CERTIFICATION
Enterprise Green Communities Certification is available for any housing project in the United States that includes affordable dwelling units.

Two levels of certification are available: Enterprise Green Communities Certification and Enterprise Green Communities Certification Plus. Our new "Plus" level of certification recognizes significant achievement for projects that meet all certification requirements and have invested in deep levels of energy efficiency, a critical strategy in our changing climate.
Projects that also comply with Criterion 5.2b Moving to Zero Energy: Near Zero Certification or Criterion 5.4 Achieving Zero Energy will be recognized with Enterprise Green Communities Certification Plus.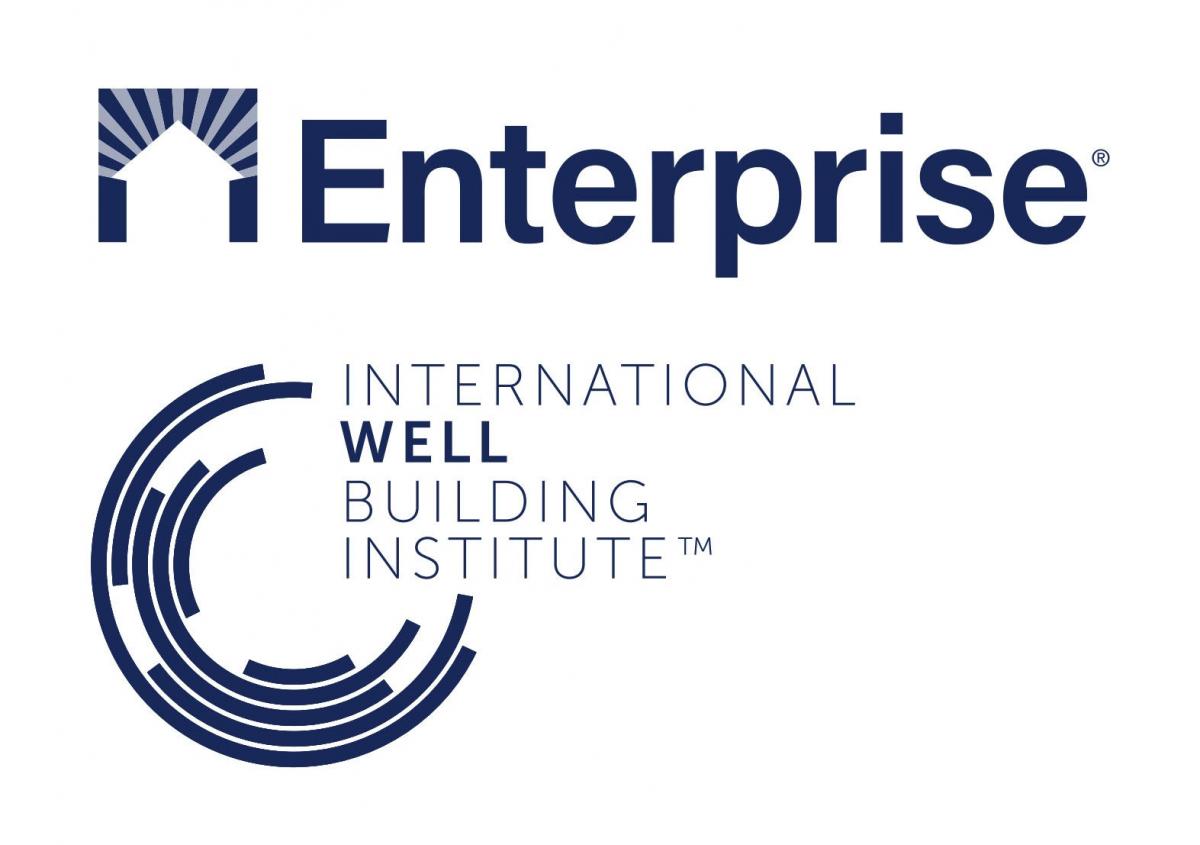 Enterprise Green Communities is a platform for high quality affordable housing in the United States—and the only national green building framework developed explicitly with and for the affordable housing sector. The WELL Building Standard (WELL) is the premier framework for advancing health and well-being in buildings, communities and organizations around the world. With the 2020 Enterprise Green Communities Criteria, we've leveraged the best of both programs and created one path for affordable housing developments in the United States to create best-in-class healthy, efficient and environmentally responsible homes. Projects that achieve certification with the 2020 Criteria will be recognized as certified under both Enterprise Green Communities and WELL.
ONLINE RESOURCES
Enterprise provides tools and resources to assist with the design, development, and operations of affordable housing projects. 
For a full description of the certification process, including required parameters for the Prebuild and Postbuild submissions, visit our Certification page.
If you have questions about Enterprise Green Communities certification, email certification@enterprisecommunity.org.
ACKNOWLEDGMENTS
The best parts of this document would not have been possible without the insights and assistance from the following individuals and organizations. Thank you.
2020 Criteria Technical Working Group
Lauren Baumann
New Ecology, Inc.
Leah Broder
landscape design
Erin Christensen Ishizaki
Mithun
Andrea Cooper-Lazarczyk
International Living Future Institute
Alistair Jackson
O'Brien360
Heather Rosenberg
ARUP
Dominic Ruiz and Nathan Stodola
International WELL Building Institute
Jonah Schein and
Olga Cano
U.S. Environmental Protection Agency, WaterSense
Rebecca Stamm
Healthy Building Network
Ellen Tohn
Tohn Environmental Strategies
Walker Wells
Raimi + Associates
Peter Yost
Building-Wright
2020 Criteria Advisory Group
Molly Berg
Habitat for Humanity International
Jess Blanch
Capitol Hill Housing
Emily Blank
LISC NYC, Green and Healthy Neighborhoods
Janaka Casper
Community Housing Partners
William Weber
Healthy Building Network
Emily Jones
LISC Boston
Korbie Jorgensen Haley
Office of Rural and Farmworker Housing
Mandy Lee
NAACP
Sunshine Mathon
Piedmont Housing Alliance
John Miller
Flywheel Development
Todd Nedwick
National Housing Trust
Marissa Ramirez
National Resource Defense Council
Clare Rosenberg
NeighborWorks
Cady Seabaugh
McCormack Baron Salazar
Tom White
Eden Housing
Lauren Zullo and 
Josh Lomont
Jonathan Rose Companies
Special thanks to our Policy Working Group, including invaluable input from many of our longtime partners at the city, state, and federal level.
And to the ever-growing network of affordable housing developers and project teams applying the Enterprise Green Communities Criteria across the country, we applaud your commitment. This work is ever more important.
Thanks to all the Enterprise staff who provided valuable input to the 2020 Criteria. The Criteria development, review, and revision process was overseen by Krista Egger and Ray Demers. Any errors in this document are the sole responsibility of Enterprise Green Communities.
©2020 Enterprise Community Partners, Inc. All rights reserved.
Design: Landesberg Design