We're pleased to introduce this cross-section of affordable housing developments that have stepped up to certify to the 2020 Enterprise Green Communities Criteria, the standard for sustainable futures.
In pursuing certification, each of these projects is doing its part to advance equity through healthy, efficient and environmentally responsive homes and communities.
As developers across the nation implement the new standard, we formed a cohort of early adopters.
We're calling this cohort The First 20. You can meet three of them in this video:
Stacie Birenbach, Enterprise Community Development
Mike Saunders, McCormack Baron Salazar
Lauren Zullo, Jonathan Rose Companies
See why these leaders chose to certify to the 2020 Criteria. And learn how the standards are putting residents' voices first to create healthy, sustainable homes. The First 20 properties and all affordable housing developments that certify to the 2020 Criteria will also earn WELL Certification through a new partnership with the International Well Building Institute (IWBI).
Questions? Contact Shelby O'Neill.
Follow the First 20 journey: Twitter (#EnterpriseGreenCommunities), Enterprise Blog, Video
---
Meet the First 20!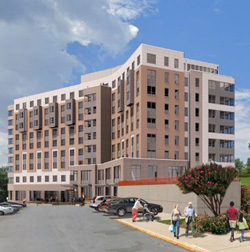 Edgewood Commons, Washington, D.C.
Developer: Enterprise Community Development
Architect: Wieneck+Associates
Construction status: Predevelopment and integrative design
"Social isolation can be hazardous for people's mental and physical health, especially for older adults. Edgewood V is designed to create a physical environment with ample space for social connectedness. We are building an opportunity for older adults to not just age in place, but also age in community."
– Stacie Birenbach, Senior Director, Real Estate Development, Enterprise Community Development
A new extension to Edgewood Commons will introduce 150 homes designed to encourage aging in place in adaptable, accessible living and recreational spaces. The new homes will feature access to transportation and community amenities including healthcare, social services, and houses of worship. The design of the building will emphasize a healthy, comfortable indoor environment, and the site will offer a fitness area and spaces for community gatherings.
---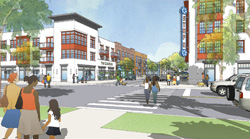 Cowan Place Senior Living, Fort Worth, Texas
Developer: McCormack Baron Salazar
Construction status: Schematic drawings complete
"As the first phase of the Stop Six Choice Neighborhood in Fort Worth, Texas, Cowan Place will set the standard for the transformation of Stop Six into a sustainable, resilient community for all people with all levels of wealth. By following Enterprise Green Communities' holistic approach, the development team will ensure that seniors in the community benefit from Cowan Place's exceptional and thoughtful design and operations, promoting their health, comfort and financial security."
– Lou Bernardy, Senior V.P. and Director of Development, Texas, McCormack Baron Salazar
Part of the Stop Six Choice Neighborhood Transformation Plan, this new-construction project aims to break ground in June 2021. Cowan Place Senior Living will replace 1950s-era public housing and deliver 170 modern, comfortable homes for seniors and people experiencing chronic homelessness. Inspired by residents and community leaders of the Stop Six community, the design incorporates interior and exterior activity spaces, including a fitness center, billiards table and library. The preservation of mature oak trees and introduction of a grand courtyard and community garden celebrate green space and the site's natural amenities. Cowan Place will be part of a new, walkable "Main Street" of architectural variety, enhancing residents' access to a commercial district with a range of offerings, from job training programs to food markets.
---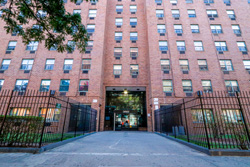 Thessalonica Court, Bronx, New York
Owner: Jonathan Rose Companies
Architect: Curtis + Ginsberg
Construction status: Predevelopment and integrative design
"Having provided input on the development of the 2020 Green Communities Criteria and the NYC Overlay, our team is familiar with the new approach and excited to put it into practice!"
– Lauren Zullo, Director of Environmental Impact, Jonathan Rose Companies
A moderate rehab project expected to begin in spring 2021, Thessalonica Court will preserve and enhance 200 homes designed for resilience and comfort, while maintaining low operating costs through reduced water and energy use. The renovation embraces the rich urban environment of the neighborhood which is walkable to schools, green space, pharmacies, grocers, restaurants and public transit This project encourages social connectedness and healthy living, and responds to the needs of family life in the city by cultivating safe spaces for work and play.
---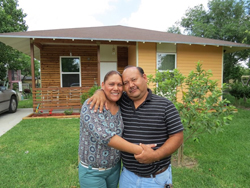 Owner: cdcb | come dream. come build.
Architect: bcWORKSHOP
Construction status: Design Development
"We see a future not just within Brownsville, but a future that includes other persistent poverty locations in need of wealth that sticks and growing power among those living in the most disadvantaged parts of our region with MiCASiTA."
– Nick Mitchell-Bennett, Executive Director, come dream. come build.
Housing Affordability Breakthrough Challenge winner cdcb is bringing Enterprise Green Communities certification to their next-generation prototype of healthy, resilient dwellings. With its first single-family model destined for rural neighborhoods in the Rio Grande Valley, the MiCASiTA innovation will implement climate-resilient design strategies to ensure durable, safe homes that enable generational wealth building and engage the intrinsic qualities of the natural environment. Homeowners will help guide the plans for their personalized, adaptable home, a fundamental aspect of MiCASiTA that promises to empower clients and strengthen communities.
---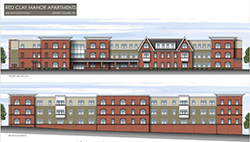 Red Clay Manor, Kennett Square, Pennsylvania
Owner: Red Clay Manor Associates, LP
Architect: Architectural Alliance, Inc.
Developer: Delaware Valley Development Company
Construction status: Predevelopment and integrative design
"Our mission is to successfully create and manage communities of the highest quality utilizing three core values: excellence in design, construction and management,integrity in personal accountability, and responsibility to build sustainable communities that enhance the built and natural environments."
– Glenn S. Worgan, Vice President, Delaware Valley Development Company
Red Clay Manor is a newly constructed residence in the small city of Kennett Square, Pennsylvania. It will provide 60 homes for seniors. On-site supportive services will include health information sessions, fitness classes, and at-home physical, occupational and speech therapy. In addition to meeting the 2020 Green Communitiess Criteria, the building will comply with the Department of Energy's Zero Energy Ready Homes Program, which encompasses water and energy conservation. Red Clay Manor will also ensure healthy indoor air quality for residents. The development offers residents a walkable community bursting with opportunities for engagement and support. At the same time, seniors will be able to age in place, with access to services and transportation critical for independent living.
---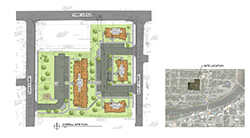 Hillcrest Manistee, Manistee, Michigan
Owner: Hillcrest Manistee LDHALP
Architect: Hooker DeJong
Developer: Hollander Development Corporation
Construction status: Predevelopment and integrative design
"We are excited to be building the Hillcrest Apartments in Manistee, Michigan to meet the 2020 Enterprise Green Communities Criteria. The result will offer community members a truly high-performance living environment focused on efficiency, air quality, and overall quality of life."
− Matthew Hollander, Managing Principal of Hollander Development
With 45 affordable new homes, Hillcrest will help address the critical need for workforce housing in rural Manistee, Michigan. The development will include one, two and three-bedroom living spaces. It aims to reduce energy consumption through efficient design, construction and equipment. The development is also conveniently located within walking distance of restaurants, parks, schools and groceries. Once completed, Hillcrest will offer high-quality, efficiently designed affordable homes that offer an abundance of amenities to residents.
---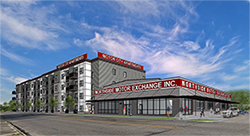 Motor City, Baton Rouge, Louisiana
Owner: Renaissance Neighborhood Development Corporation
Architect: Holden Architects and Chenevert Architects
Developer: Renaissance Neighborhood Development Corporation
Construction status: Predevelopment and integrative design
"The complex will provide affordable housing close to downtown Baton Rouge. The design will incorporate the latest in resiliency design and materials to allow residents the option to shelter in place during a natural disaster. This is all being accomplished within a revitalizing neighborhood. Additionally, we will be preserving a 100-year-old building that is characteristic of the neighborhood's history."
− Victor Smeltz, Executive Director of Renaissance Neighborhood Development Corp.
Beginning construction in summer of 2021, Motor City will provide 110 new homes for families, seniors and people with disabilities in Baton Rouge, Louisiana. Linkages to an existing commercial building means Motor City will also feature offices and a common area. Once completed, the building will cover an entire city block in a reemerging area of mid-city Baton Rouge. In containing both potable water and power on site, Motor City integrates GOLD Fortified design for storm resiliency and provides residents with the ability to safely remain in their homes following severe weather.
---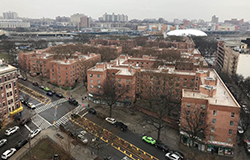 Harlem River Preservation, New York, New York
Owner: Settlement Housing Fund and West Harlem Group Assistance
Architect: Curtis + Ginsberg
Developer: Settlement Housing Fund and West Harlem Group Assistance
Construction status: Predevelopment
"By working with new partners, we are making good on our promise to create long-term and meaningful improvements to the city's affordable housing."
− Vicki Been, New York City Deputy Mayor
Harlem River Preservation features the Harlem River Houses and Harlem River II. The apartment communities will undergo a resident-in-place rehabilitation of 693 total homes. In diving into the 2020 Criteria, the nonprofit development team seeks to transition Harlem River Houses from a steam line to a variable refrigerant flow heating system. Harlem River II will add a high-performance building envelope. In addition, the team will update the buildings with new roofs, windows, appliances, water-conserving fixtures and in-unit temperature controls. Responsive management, on-site social services and a commitment to long-term affordability all prioritize residents' well-being.
---
19-19 Cornaga Avenue, Brooklyn, New York
Owner: Brisa Builders Corporation
Architect: Paul A. Castrucci, Architects
Developer: Brisa Builders Corporation
Construction status: 75% construction drawings complete
"19-19 Cornaga Avenue will create model affordable homes, providing community and supportive spaces for residents."
– Jack Brown, president of CORE Service Group
19-19 Cornaga Avenue is a new construction development that began in April 2021. It will provide 92 healthy, energy-efficient homes for families and individuals in Brooklyn and seek to create an environment that fosters community engagement. The majority of homes will be rented to people 55 and older who have experienced homelessness. The team built 19-19 Cornaga Ave in line with Passive House Design to optimize energy use through a sound building envelope. The development also features a rooftop solar photovoltaic system and promises to exceed the energy requirements of the NYC building code by 60 percent.
---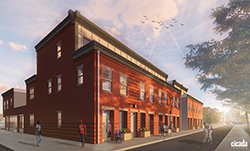 Mamie Nichols Townhomes Phase I, Philadelphia, Pennsylvania
Owner: Cicada Architecture and Planning
Architect: Cicada Architecture and Planning
Developer: Women's Community Revitalization Project
Construction status: Construction
"Mamie Nichols Townhomes is designed to provide safe and convenient spaces that meet the unique needs of veterans, persons with physical disabilities, homeless persons, and families. The site offers access to supportive services that allow residents to thrive according to their own goals."
- Laura Casaccio, Project Architect, Cicada Architecture and Planning
Beginning construction in late 2020, Mamie Nichols Townhomes provide 33 new homes for veterans in Philadelphia, Pennsylvania. Additionally, Mamie Nichols Townhomes will provide housing for veterans with special needs through fully accessible living areas. In catering to this particular resident group, the team pursued Universal Design through easily navigable spaces, stairless entries, and accessible pathways. The development will also achieve all electric energy consumption by eliminating emissions associated with nonrenewable energy sources. Mamie Nichols Townhomes are both culturally and environmentally sustainable in line with Enterprise Green Communities 2020 Criteria, as well as the standards of the Department of Energy Zero Energy Ready Homes certification.
---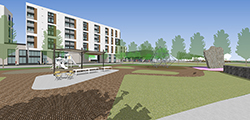 JOLI Building, Denver, Colorado
Owner: OZ Architecture
Architect: OZ Architecture
Developer: Denver Housing Authority
Construction status: Construction documentation phase
"Building happy and healthy communities takes more than just putting a roof over someone's head. The JOLI Project's intentionality about incorporating resident input and tackling health disparities in Sun Valley will further the Denver Housing Authority's mission to build sustainable and vibrant communities."
-- Mark Howard, Senior Developer, Denver Housing Authority
JOLI Building provides 126 new homes for multi-generational families. The development creates indoor and outdoor places that reduce health hazards, while also promoting physical activity and providing access to healthy foods and beverages. The project site will feature a food incubator that serves the community and the first floor of the building will include homes with office space. JOLI Building is designed to positively impact the well-being of residents through safe, sustainable, affordable, equitable, and healthy homes. At the same time, this site offers access to community amenities and economic opportunities in the Sun Valley neighborhood of Denver.
---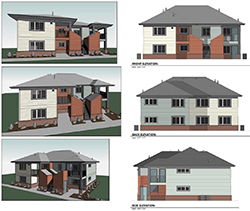 Swallow Road Apartments, Fort Collins, Colorado
Owner: CARE Housing
Architect: alm2s
Developer: Housing Catalyst
Construction status: Construction
"Swallow Road Apartments is a critical asset to the surrounding neighborhood and the city of Fort Collins. By improving the livability and sustainability standards of this rental housing community, we're providing the opportunity for current and future generations to have a healthy, stable home they can afford."
-- Victoria Herrero-Garcia, Sustainability Consultant, Ambient Energy
The moderate rehabilitation of Swallow Road Apartments will ensure that it remains affordable to the 84 families who call it home. The project involves merging two properties, 1303 and 1403 West Swallow Road, into one cohesive, newly renovated community. The majority of the changes focus on improving the building's energy efficiency and reducing its carbon footprint. This will be accomplished by replacing the windows, furnaces and water heaters. Additional changes include upgrading the insulation and installing LED light fixtures.
---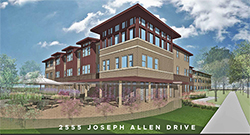 VOA Cadence, Fort Collins, Colorado
Owner: Volunteers of America National Services
Architect: Shopworks Architecture
Developer: Volunteers of America National Services
Construction status: Construction
"Truly walkable communities are rare in suburban development and Cadence is perfectly situated to provide residents easy access to daily necessities, while fostering a strong sense of community. The location nicely complements many aspects of the Enterprise Green Communities Criteria."
– Brian Reilly, Development Director, Volunteers of America National Services
VOA Cadence will create 55 affordable new homes for seniors in Fort Collins, Colorado. The site will feature parking spaces equipped with charging stations for electric vehicles, but is also situated in a highly bikeable and walkable community with access to public transportation. Additionally, Cadence set aside 1,200 square feet of space for gardening and growing food for residents. In addition to using ENERGY STAR appliances, WaterSense fixtures, and healthy building materials, VOA Cadence is also committed to educating residents about green building principles.
---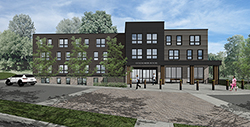 Golda Meir House, Newton, Massachusetts
Owner: 2Life Communities
Architect: Prellwitz Chilinski Associates
Developer: 2Life Communities
Construction status: Predevelopment
"2Life Communities is thrilled to be working with Enterprise on the Golda Meir House expansion, our fourth Green Communities project in the last five years! 2Life and its residents value the opportunity to partner with Enterprise on being good environmental stewards for the next generation."
– Zoe Weinrobe, Director of Real Estate Development, 2Life Communities
Beginning construction in early 2021, the expansion of the Golda Meir House will provide 68 homes to seniors with a range of incomes. The community will also serve people with disabilities and individuals who have been chronically homeless. The new construction project is focused on introducing low-carbon electric space heating, creating a high-performance building envelope, improving air circulation, and enhancing access to the building. 2LifeCommunities is committed to these changes despite some constraints, including the existing building's low floor-to-floor height, the site's steep slope, and the current interior and exterior materials.
---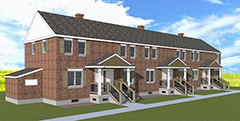 Melone Village III, Auburn, New York
Owner: Melone Village III Limited Partnership
Architect: Zausmer-Frisch
Developer: Auburn Housing Authority
Construction status: Construction
"Melone Village III is the culmination of a multiyear effort by the Auburn Housing Authority to transform the larger Melone Village complex into modern, energy-efficient housing that provides much needed affordable housing, while also reducing the carbon footprint."
− Bruce Levine, President, 3d Development Group LLC
Beginning construction in early 2021, Melone Village III is a substantial rehabilitation of 62 homes in the small city of Auburn, New York. Several units will be transformed into fully accessible apartments to create healthier and safer living environments. Reducing each apartment's energy use, installing low-flow water fixtures and improving the efficiency of the building envelope will lower residents' utility costs. Residents will also experience better indoor air quality due to healthy, non-toxic building materials.