We're pleased to introduce this cross-section of affordable housing developments that have stepped up to certify to the 2020 Enterprise Green Communities Criteria, the standard for sustainable futures. In pursuing certification, each of these projects is doing its part to advance equity through healthy, efficient and environmentally responsive homes and communities.
Like all developments that certify to the 2020 Criteria, The First 20 will be dually certified to Enterprise Green Communities and IWBI's WELL Building Standard as part of our partnership and shared commitment to promote the development of green affordable housing that prioritizes community health and well-being.
We invite you to follow these developers on their journeys from the design and construction phases through final certification and ultimate impact.
Submit your project's Prebuild application to join them as part of The First 20 cohort!
Questions? Contact Shelby O'Neill.
Follow the First 20 journey: Twitter (#EnterpriseGreenCommunities), Enterprise Blog, Video
---
Meet the First 20!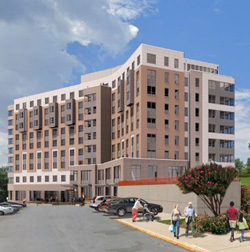 Edgewood Commons, Washington, D.C.
Developer: Enterprise Community Development
Architect: Wieneck+Associates
Construction status: Predevelopment and integrative design
"Social isolation can be hazardous for people's mental and physical health, especially for older adults. Edgewood V is designed to create a physical environment with ample space for social connectedness. We are building an opportunity for older adults to not just age in place, but also age in community."
– Stacie Birenbach, Senior Director, Real Estate Development, Enterprise Community Development
A new extension to Edgewood Commons will introduce 150 homes designed to encourage aging in place in adaptable, accessible living and recreational spaces. The new homes will feature access to transportation and community amenities including healthcare, social services, and houses of worship. The design of the building will emphasize a healthy, comfortable indoor environment, and the site will offer a fitness area and spaces for community gatherings.
---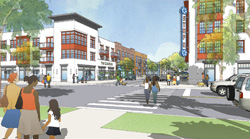 Cowan Place Senior Living, Fort Worth, Texas
Developer: McCormack Baron Salazar
Construction status: Schematic drawings complete
"As the first phase of the Stop Six Choice Neighborhood in Fort Worth, Texas, Cowan Place will set the standard for the transformation of Stop Six into a sustainable, resilient community for all people with all levels of wealth. By following Enterprise Green Communities' holistic approach, the development team will ensure that seniors in the community benefit from Cowan Place's exceptional and thoughtful design and operations, promoting their health, comfort and financial security."
– Lou Bernardy, Senior V.P. and Director of Development, Texas, McCormack Baron Salazar
Part of the Stop Six Choice Neighborhood Transformation Plan, this new-construction project aims to break ground in June 2021. Cowan Place Senior Living will replace 1950s-era public housing and deliver 170 modern, comfortable homes for seniors and people experiencing chronic homelessness. Inspired by residents and community leaders of the Stop Six community, the design incorporates interior and exterior activity spaces, including a fitness center, billiards table and library. The preservation of mature oak trees and introduction of a grand courtyard and community garden celebrate green space and the site's natural amenities. Cowan Place will be part of a new, walkable "Main Street" of architectural variety, enhancing residents' access to a commercial district with a range of offerings, from job training programs to food markets.
---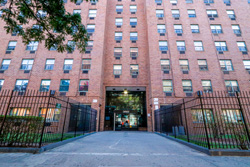 Thessalonica Court, Bronx New York
Owner: Jonathan Rose Companies
Architect: Curtis + Ginsberg
Construction status: Predevelopment and integrative design
"Having provided input on the development of the 2020 Green Communities Criteria and the NYC Overlay, our team is familiar with the new approach and excited to put it into practice!"
– Lauren Zullo, Director of Environmental Impact, Jonathan Rose Companies
A moderate rehab project expected to begin in spring 2021, Thessalonica Court will preserve and enhance 200 homes designed for resilience and comfort, while maintaining low operating costs through reduced water and energy use. The renovation embraces the rich urban environment of the neighborhood which is walkable to schools, green space, pharmacies, grocers, restaurants and public transit This project encourages social connectedness and healthy living, and responds to the needs of family life in the city by cultivating safe spaces for work and play.